Learning French in Paris is a daily battle. English is everywhere, so much so that you could actually get by without speaking French at all. Well, at least in most places.
But, if you persevere, you do have little victories every now and again. Like the feeling you get when you learn a new word and then you hear it absolutely everywhere, making you wonder how you got by without it. (For example: I recently had this with the word "punaise", which means bug (or thumb tack) and can also be used to say "gosh" or "golly". Something similar happened a few years ago with "machin", which is equivalent to "thingy", and pops up all the time. And again, once you hear it, you can't un-hear it.) Or when you successfully order your vegetables at your local market – and don't, for example, find yourself trying to order three navettes (shuttle buses) instead of three navets (turnips). Or when you manage to wrap up a voicemail in French without sounding like the most awkward person on earth.
But you know you've really made it when you start using French expressions. This is where the richness of the French vocabulary and their gift for les jeux de mots (word play) come together. There are literally hundreds of French idioms out there, suitable for just about every aspect of Parisian life. I was reminded of this recently when discussing the weather with some colleagues. This is always a popular topic of conversation at the office, but more so at the at the moment, with the mercury expected to drop below -5 this week in a phenomenon described by meteorologists as "Moscou-Paris" (which sounds more like a delicious cocktail than a cold weather front to me, but that is by the by). In English, I could only think of two expressions to say "it's cold" (one of which was, spoiler alert, "it's cold"). The French, on the other hand, have at least five expressions to describe le froid, each more colourful than the last.
After a few years here, I'd picked up a number of these expressions, applicable both to the weather and to many other aspects of life in Paris. When I hear them, I note them in my phone (often incorrectly, as shown below), and then try to bring them out at the appropriate moment.
But the thing about using expressions or idioms in any language is that you have to use them word for word. It's not enough that you convey the general image or the idea. (Even in English, you can't say "You have to make your ducks stand in a line" or, "You shouldn't count your chickens before they are born.")
Bref, even one word out of place and you've gone from impressing your French friends with your witty repartee to becoming fodder for their dinner party anecdotes. Regrettably, but much to my French friends' delight, I have found myself falling into the latter category on more than one occasion. And more often than not it's because I've taken an innocent turn of phrase and unknowingly turned it into something far more risqué.
To give some examples, starting on the tamer side: a few years ago I learned the expression, "Il n'y a pas le feu au lac" (literally, the lake is not on fire). Essentially this means there is no rush or urgency. This seemed like a great expression for use in the work context. So, in a team meeting one day, when it seemed like we were clearly not in a lake-on-fire situation, I decided to assert myself and said, "Mais le lac ne va pas prendre feu." (literally, something like, "But ze lake iz not going to catch on fire.") I looked around my colleagues' puzzled faces and instantly knew I had failed. A beat, before someone copped on, "Ahhh elle veut dire il n'y pas le feu au lac." It's like a reversal of that familiar moment described by Stephen Clarke, when a French person says just about any Hollywood actor's name and you make them repeat it three times before saying, "Ahhh, you mean Keanu Reeves!"
Another racier anecdote, which is a particular favourite among my French friends, happened when we were on a group ski trip last year. We had rented a charming apartment in Val d'Isère. It was our last day and we understood that nobody was checking in after us so we could fit in a full day of skiing before heading back to the apartment to shower, pack our things, tidy up and take our train back to Paris. Hélas, we were out skiing up a storm on La Grande Motte when we got a phone call from the owner saying that there had been a misunderstanding and the cleaners were back at the apartment waiting to clean it before the next guests checked in a few hours later. We raced down the mountain, dropped off our skis, ran back to the apartment and quickly packed our things.
When we piled into the elevator to go downstairs (along with a family of four with two small children, of course), my friend and I were lamenting the fact that we had not been able to shower due to the rush. I said, "C'est bon, je vais me faire une douche à la chatte plus tard." What I had *wanted* to say was I would take a toilette de chat, which I understood to mean freshening up sans a proper shower, like a cat (i.e., wash my face, hands and underarms using a make-up remover wipe). What I ended up saying was something far, far more rude involving another word for cat (you can guess the rest).
Another minefield is French slang. Once you use it you start to feel like you have total street cred. But again, you need to get it exactly right or else you sound distinctly uncool.
A dear Parisian friend of mine Caro is my go-to person for the latest French slang. She's a fan of verlan (a form of slang created by cutting words in two and turning them backwards) and regularly coins slang terms of her own.
One day Ro-ca (or Ro-K to take it a step further) was admiring my "bagouze" and I had no idea what she was talking about. It turns out that bagouze (or bagouse) is slang for bague, which means ring. I dug a little further into the practice of putting "ouze" at the end of words and found out, for example, that flouze is slang for money and that piqouze is slang for injection (piqûre). I made a mental note about this "ouze" idea and carefully filed it away for future use.
A few weeks later I was in Berlin with Ro-K and some other girlfriends, one of whom had brought her boyfriend along. On the Friday night we went out to one of Berlin's famous night spots. As we were walking into the club, I turned to the group wanting to announce something like, "Let's party!" (Or "Let's make ze party !" ("On va faire la fête !"), as the French would say.) I'd been toying with this "ouze" idea, so, for reasons I still cannot explain, I came out with "Allez, on va faire la part-ouze !" Which actually means "We're going to have an orgy !" ("Partouze" = orgy). Of course, as luck would have it I announced this within earshot of another group of français. And given the club we were in, this did not sound like such an improbable proposition. Needless to say, our male companion, in particular, found this absolutely hilarious and has dined out on the story on many occasions since.
Another favourite anecdote occurred when I was at a fancy business lunch at the prestigious cercle de l'Union interalliée on Rue du Faubourg Saint-Honoré. I was seated next to a high-ranking executive from a large French company. I was very carefully vouvoie-ing him (i.e., using the formal/polite form of "you") and using my best French. We started talking about our jobs and for whatever reason I found myself wanting to tell him that I had a sore neck because I was working long hours sitting at my computer. So I told him that "Je travaille devant l'ordinateur et cela m'arrive d'avoir mal au cou." Except that instead of saying "cou" I said "cul". Et oui, a slightly different vowel pronunciation meant that instead of telling this gentleman I had a sore neck ("cou"), I instead told him I had a sore arse ("cul").
To add to the complexity, you also have to watch out for traps laid by mischief-making locals. For example, I used to work with a guy named Jacques* who is lovely, but has a very cheeky streak. Jacques has that lethal combination of super quick wit and perfect English. Once in my early days at our company we went out to lunch with a group of colleagues. I hadn't even been in France a year at this point and was struggling to keep up with the conversation. I found myself wanting to say something but wasn't sure how to say I "laughed out loud". Luckily (or not) I had Jacques beside me, and so I leaned in and asked him how to say it. He whispered the phrase to me and I turned to the group and repeated what he had said, announcing, "J'ai ri à gorge profonde." What I should have said was, "J'ai ri à gorge déployée." (Literally, "I laughed with an open throat.") Instead I said, "I laughed with a deep throat." Cue many LOLs from all around the table, and especially from Jacques.
A similar thing happened to my better half, who also had an equally quick-witted and mischievous (yet lovely) colleague named Stan. One day my chéri was feeling under the weather and asked Stan how to say he had "the flu" in French. Lightening fast, Stan said, "Ah, c'est la chtouille !" So my poor chéri went around the office saying he wasn't feeling well and gravely telling people that he thought he had la chtouille. Again, many LOLs were had until his dear office-mate (co-bureau) Mathilde kindly told him that la chtouille in fact means syphilis (and the he should have been saying that he had "la grippe").
But none of this will discourage me from diligently noting down French expressions and using them (or trying to use them) in everyday life. I would never throw in the sponge ("jeter l'éponge") on my mission to turn Parisian so quickly !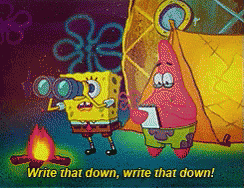 *Name has been changed to that of my other favourite actor from Le Dîner de cons